everyone this is my little baby and i love her so so dont diss her!

ill get angry lol
any advice given will be considered and you never no you may get your advice done!
anyways this is my little fiesta 1.1i and who has a lot coming for her this summer so watch this space i will now tell you the plans before i post the pics.
- sort out arches and get them rebuilt
- get the sound system all in and built
- bad boy bonnet
- new bumpers and skirts (not sure which yet)
- all interior done out in black and purple
- lowered 40ml
- then full respray in midnight purple (which is a limited edition colour of the nissan skyline r34 if you wanna look it up)
thats about it for now what i can think of so here she is....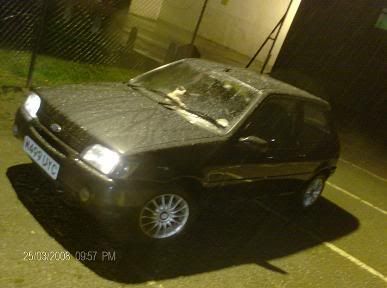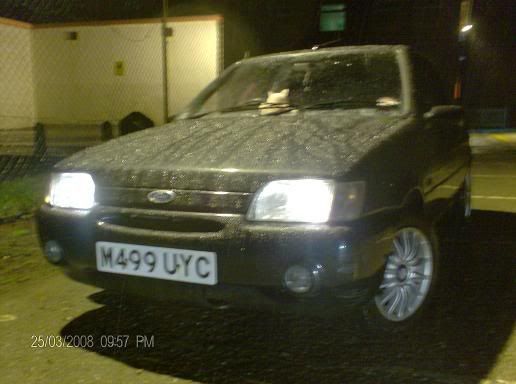 XM Registered User








Number of posts

: 47


Age

: 29


Location

: Bridlington


Registration date :

2008-04-09



XM Registered User








Number of posts

: 331


Age

: 32


Location

: durham


Job/hobbies

: doorman


Humor

: i am the Funky Monkey


Registration date :

2008-04-03



not a bad little car jo cant wait to see it done
keep up the good work

Admin/Owner








Number of posts

: 379


Age

: 33


Location

: East Yorkshire


Job/hobbies

: site owner, cars & bikes


Humor

: Happy


Registration date :

2008-04-02



XM Registered User








Number of posts

: 195


Age

: 29


Location

: Wilmslow


Job/hobbies

: Admin


Registration date :

2008-04-03



jojo we need to try the shockers out in it lol
XM Registered User








Number of posts

: 331


Age

: 32


Location

: durham


Job/hobbies

: doorman


Humor

: i am the Funky Monkey


Registration date :

2008-04-03



cheers for the comments guys

shes my lil baby hehe
and yeah should be getting an exhaust this week sometime if not beginning of next week
so keith you will probs hear me now not see me lol
x
XM Registered User








Number of posts

: 47


Age

: 29


Location

: Bridlington


Registration date :

2008-04-09



nice, saw it on friday. u drove past me but never saw me lol grrr
XM Registered User








Number of posts

: 54


Age

: 27


Location

: bridlington


Job/hobbies

: cars beer etc usual stuff


Humor

: anything


Registration date :

2008-04-05



lol, i never see anyone mousey i would say jump out in front of me but i still wouldnt see you haha
XM Registered User








Number of posts

: 47


Age

: 29


Location

: Bridlington


Registration date :

2008-04-09



Very nice

XM Registered User








Number of posts

: 29


Age

: 30


Location

: Proud Mordoner


Job/hobbies

: Auto photograher, Jcb, Fork lift and white van driver


Registration date :

2008-04-07



cheers jo

XM Registered User








Number of posts

: 47


Age

: 29


Location

: Bridlington


Registration date :

2008-04-09



ikklejojo wrote:lol, i never see anyone mousey i would say jump out in front of me but i still wouldnt see you haha
lmao not gonna try that one then haha might be a dead mousey
XM Registered User








Number of posts

: 54


Age

: 27


Location

: bridlington


Job/hobbies

: cars beer etc usual stuff


Humor

: anything


Registration date :

2008-04-05




---
Permissions in this forum:
You
cannot
reply to topics in this forum